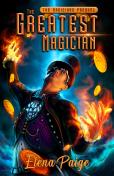 Student Review

The Greatest Magician by Elena Paige begins with the impending threat of explosions at the popular Magicians' Convention. Jack, at the present a famed magician, is faced with a personal affront and is thrown back to the first time he attended the convention. Immensely frustrated by his complete lack of magical powers, the younger Jack dreads having to perform with the rest of his talented family, including his famous mother.
When he crosses paths with a young thief, Jack wonders if the amateur criminal could be the key to finally getting real power of his own. Jack, a cunning stranger named Alexander, and the mystery thief team up to steal the magical coins rumored to be the secret to the power of all mages. In the midst of exciting wizardry and deeply-rooted trickery, Jack has a lot to discover about his family, his new friends, and the coins he is so desperately seeking.
Opinion:
Elena Paige's story is a fast-paced adventure through a world of magic. Filled with imagination and unexpected surprises, The Greatest Magician is far from boring. Given its simple structure and yet limited implications of violence, I would recommend this book for sixth and seventh graders. While I enjoyed the page-turner nature of this fantasy story, sometimes the characters' decisions were too hasty or unrealistically extreme. I was occasionally lost in the objectives of even the main character at times. But the plot-twists are original and creative, making The Greatest Magician a completely new adventure that was a genuine joy to read.
Explain your content rating:
There are several mentions of violence and cruelty.
KEYWORDS
CHARACTERISTICS AND EMOTIONS:
ACTIVITIES, HOBBIES, PLACES, AND EVENTS: