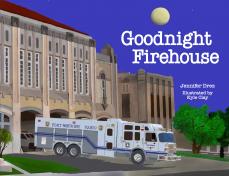 LitPick Review

WATCH THE LITPICK BOOK BRIEF VIDEO!

Goodnight Firehouse is a picture book that is informative about firefighters, their equipment, their firehouse, and how they help the community. This book goes through saying goodnight to the firehouse, the vehicles, and the many tools firefighters use to do their job. There is also a lot of great information at the end of the book about fire prevention and safety.
Opinion:
Goodnight Firehouse is an adorable book for young readers. Although it's a picture book, it's very informational. I've never read a book like that before. The images are vibrant and engaging, and I would recommend this book to all ages, especially young children who are fascinated with fire trucks and firefighters. I read Goodnight Firehouse in less than ten minutes.
KEYWORDS
CHARACTERISTICS AND EMOTIONS:
ACTIVITIES, HOBBIES, PLACES, AND EVENTS: