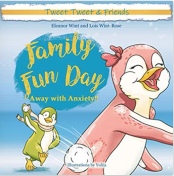 LitPick Review

Tweet Tweet is a special penguin who is different from other peguins she knows. Throughout the book, Tweet Tweet learns that some of her peers embrace her differences while others make her feel inadequate. For example, Tweet is able to fly without attending a special class. Even though some of her peers are jealous of her ability to do so without guidance, Tweet Tweet continues to fly with confidence. There is also a nice example of how Tweet Tweet does not give into peer pressure. One of her friends directly tells Tweet Tweet not to hang out with a specific penguin or else Tweet Tweet will become her enemy. Tweet Tweet ignores the threat and befriends the penguin anyway. This book focuses on staying true to yourself, staying postitive in tough situations, and the importance of family traditions.
Opinion:
Family Fun Day is a good book choice for kids who need a confidence boost to embrace who they are. The illustrations are beautiful and made me feel I was walking through Tweet Tweet's world. The author did a nice job of presenting a world where kids can get away from reality and enjoy a make-believe world to encourage imagination. There were a couple of typos, but the story was very much written on how kids act when someone is not like them. Encouraging read. However, I did not like how there was not a proper ending. To me, it felt like the book stopped in the middle of the story.
Explain your content rating:
Nothing vulgar was expressed in this book.
KEYWORDS
CHARACTERISTICS AND EMOTIONS:
ACTIVITIES, HOBBIES, PLACES, AND EVENTS: