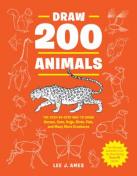 LitPick Review

Draw 200 Animals is a step-by-step way for learning to draw a huge variety of animals. The animals are divided into nine major categories: horses, cats, dogs, birds, reptile/amphibians, fish/marine life, insects/crawling critters, and mammals. Drawing each animal is taught in six to nine steps, which add detail as the art nears completion. Being given the basic form for each animal, author Lee J. Ames provides student artists a foundation for creating strong sketches.
Opinion:
Draw 200 Animals has kept my children busy and encouraged with their sketching. The steps are simple, providing just enough for them to follow and then add details to make the sketches their own. The horse on page eleven was a hit for my crew. It reminds me of a Disney horse. The kitten on page eighty-five is super cute! The duckling on page 202 was also a hit with my kids. Overall, I recommend this book for young children who enjoy tracing and adults who want to reconnect with their inner artists. I am thrilled to have it on my shelf.
Explain your content rating:
Draw 200 Animals, by Lee J. Ames, is for all ages.
KEYWORDS
CHARACTERISTICS AND EMOTIONS:
ACTIVITIES, HOBBIES, PLACES, AND EVENTS: