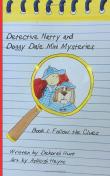 LitPick Review

Detective Natty and Doggy Dale Follow the Clues by Deborah Hunt is the first book of the series 'Detective Natty and Doggy Dale Mini Mysteries'. It features Natty, a little detective, and her loyal partner Dale, a dog who is equally good at solving mysteries, if not more. The two of them solve four simple mysteries involving missing objects, utilizing clues and of course, their detective skills. The first story is about a boy losing his soccer shoes while the rest are concerned with missing lunch box, saxophone, and button collection respectively. Each of the stories is followed by a small section where the duo explains how they reached the solution.
Opinion:
The author undoubtedly did a good job in keeping the stories fun and suitable for young children by avoiding potentially upsetting elements. Besides, many of the characters, especially the messy and forgetful ones, and events like losing and leaving behind objects are likely to be highly relevant to their lives. The way the author showed the consequences of being careless while assuring the readers that it does not necessarily make them "dumb" too deserves to be appreciated. The representation of children with disabilities is yet another beautiful side of the book.
However, a few events did appear to be a little out of place. For instance, in the third mystery, one of the kids begins to cry as Doggy Dale seemingly yells at him. Another character comforts him when Dale suddenly makes a discovery, and the issue is dropped altogether. The significance of the said event is difficult to grasp.
The story is mostly dependent on the textual content although it is accompanied by some simple, black and white illustrations. The simplicity in this case can help readers stay focused on the story itself. This is especially helpful for the ones who find vibrant pictures distracting.
Helping others when they are in desperate need is perhaps the greatest lesson that the young readers can learn from the two main characters. Moreover, as indicated earlier, the stories can also make them realize the importance of staying organized.
The book is likely to be enjoyed by readers aged 4-6.
KEYWORDS
CHARACTERISTICS AND EMOTIONS: