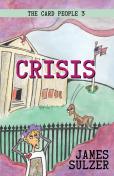 LitPick Review

Age at time of review - 16
Reviewer's Location -
Spring Hill,
Tennessee,
United States
View moseso's profile
WATCH THIS LITPICK BOOK BRIEF VIDEO!

In this thrilling conclusion to The Card People trilogy, the stakes are higher than ever. Previously, Paul and Jack of Diamonds miraculously swapped bodies using nanodust to rescue Sam, Paul's brother. As the crew prepared to swap Paul and Jack of Diamonds back into each other's bodies, however, something went horribly wrong! This book picks up with Paul in a state of confusion while the government falls to pieces around him and his friends. Paul and his friends may be the only people who can prevent the REAL PATRIOTS from taking over. But there's a slight problem…Paul is not in the right body! Together, he and Sam, along with their friends, face their toughest challenge yet as they attempt to uncover and stop a devious scheme to take over America's government.
Opinion:
Crisis…there couldn't be a better title for this book. Immediately, the book opens with crisis after crisis. Paul is stuck in a very wrong body, the government is failing, and a nefarious scheme to take over the government is in the works! With all this going on, it just seems rather impossible that Paul and his friends will be able to save the day. As with all proper stories, however, the ending is a happy and satisfying one.
My favorite part of the whole book is the opening sequence. It plays just like a dramatic movie in my head, drawing out my excitement and urging me to turn to the next page.
Another thing I really enjoy is the thoughtful study guide and discussion questions at the end of the book. Not a lot of books nowadays have such things, and this one seems to be extremely beneficial. I really appreciate this and encourage potential readers to take the time to read through it.
The characters are awesome and make the story worth the read. Each character is unique and relatable and easy to personify into a real person. The storyline is likewise unique, just not as realistic.
This story is definitely age appropriate! I recommend it for all the ages, in fact. The study guide and questions at the end of the book would make for a fun read-aloud for families with younger kids. This final tale in The Card People trilogy is a strong conclusion and absolutely worth reading!
KEYWORDS