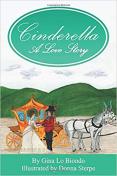 LitPick Review

WATCH THE LITPICK BOOK REVIEW VIDEO!

When Charles and Marie fall in love, they have a beautiful baby, Ella. When Ella turns five, her mother Marie becomes terribly sick. When Marie passes, Charles and Ella are by themselves until Charles has an idea of marrying another woman. The woman he marries has two daughters. Ella is excited to have a mother again and two sisters, but her heart is crushed when they are terrible and mean to her. When the handsome Prince Andrew is looking for a bride, her stepmother doesn't allow her to go to the ball that Prince Andrew is hosting. Ella is devastated, but when someone special arrives, she goes to the ball with her help. Will the Prince like her? Will her stepmother and stepsisters recognize her?
Opinion:
Cinderella: A Love Story was a cute retelling of Cinderella. It was similar to the original version, but there were some twists along the way, such as Ella's "fairy godmother" was her mom's ghost. Another thing that's different is the Prince's name is Andrew. I liked the pictures that the illustrator drew; they were very detailed and creative. This book was about 115 pages, but there weren't many words on the pages, so I finished it in about two days. I would recommend this book to ages 8 and up.
Explain your content rating:
There is nothing offensive in this book.
KEYWORDS
CHARACTERISTICS AND EMOTIONS:
ACTIVITIES, HOBBIES, PLACES, AND EVENTS: