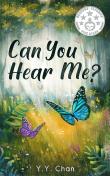 LitPick Review

Age at time of review - 17
Reviewer's Location -
Spring Hill,
Tennessee,
United States
View moseso's profile
Can You Hear Me? is a story detailing the father of the main character's journey through pancreatic cancer. It is not an easy story to tell, as every day presents new challenges and obstacles, but Renee keeps her head held high. This book takes place over a period of several months and covers both the good and bad parts of this family's life.
This is a short and simple story and manages to present the harsh reality of loss and pain and sickness in an easy to understand way. As the reader is carried alongside Renee in her journey, they feel her confusion, her hope, and her tears. As Renee watches her father slowly grow more ill, she also grows in her faith, showing us that even in times of doubt and pain, God is always with us.
In the end, Renee learns how to stay connected with her father even after he is gone and how to stay strong in her faith despite hardships. Life may not always go as planned, and it certainly will never be easy, but Renee shows us that it's important to never give up and to always keep the faith.
Opinion:
Cancer is a sad reality that has affected so many people and taken so many lives. As someone who has not ever been in direct contact with this sickness, this story was not only an eye-opener but also an encouragement (meaning that it was encouraging to read about the family coming together during their trials instead of growing apart). The ending may not be happy, but the constant reminder of the family's faith and trust in God throughout the book really made this story powerful.
I have no complaints or critiques about this book, I think it's perfect the way it is. The formatting is simple and easy to read; the chapters are short and concise; and the story doesn't drag on. It covers what it needs to and moves on without missing things or being too wordy.
The main character is also easy to understand and sympathize with; I could easily put myself in her position despite never being in her exact situation. This made the story much more impactful and memorable.
The reading level for this book is for a young age, but the story itself expands to teens and beyond. I highly recommend this book as it hits an emotional spot that not many books do, making this one truly a stand-out work of art.
Explain your content rating:
This book does deal with cancer and death, which may be sensitive topics for younger children to handle alone
KEYWORDS
CHARACTERISTICS AND EMOTIONS:
ACTIVITIES, HOBBIES, PLACES, AND EVENTS: