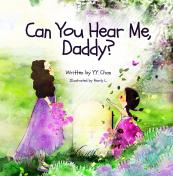 LitPick Review

Can You Hear Me, Daddy? is a children's picture book about a young girl, Renee whose father has cancer. Renee has been praying to God about her father, hoping he will recover. Before Renee's father dies, he tells her to talk to him always, even if he doesn't seem to be there. After his death, Renee struggles with the loss of her father, but she is comforted by keeping his memory close to her heart.
Opinion:
This picture book was by far one of the best picture books I have read. I think that anyone could read this book, but younger readers would benefit more from the lesson and belief that God can get a person through anything. The pictures in this book went along with the story perfectly and were stunning to look at while reading. I also liked that this was written as Renee's diary, so then readers could really see how her father's death impacted her and how she feels throughout her dad's struggle with cancer. Overall I would recommend this book to all ages and rate it 5 out of 5 stars.
| | |
| --- | --- |
| | Support small bookstores by purchasing this book here through bookshop.org - thank you! |
Explain your content rating:
Religious Perspective that portrays Christianity.
KEYWORDS
CHARACTERISTICS AND EMOTIONS:
ACTIVITIES, HOBBIES, PLACES, AND EVENTS: