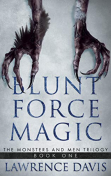 Age Range -
Mature Young Adult
LitPick Review

Blunt Force Magic is an exciting novel by Lawrence Davis. It is a modern day fantasy that takes place in an American city where an evil mistress uses a beast, Stalker, to hunt for Maria, a young witch. The hero of the story is Janzen Robinson. Robinson was once an apprentice to a group of heroes who battled supernatural evils. Now, Robinson finds it is his job to protect Maria from being killed by the evil Stalker. As he tries to protect Maria, Robinson joins with some of his old friends and they find themselves in a world of magic, risking their own lives in dangerous, frightening situations.
Opinion:
The novel is fun, gripping, and entertaining. It kept me at the edge of my seat. I was able to relate to the well-knit characters, especially Janzen, an ordinary guy who helps Maria and tries to protect her by putting his own life on the line. The author has done a good job with this book. Readers will find it engaging and like it for the intriguing plot. From the start to the finish, the novel is lively and never gets dull. The language of the book makes it appropriate for mature readers.
Explain your content rating:
The book is suitable only for adult readers.
KEYWORDS
CHARACTERISTICS AND EMOTIONS:
ACTIVITIES, HOBBIES, PLACES, AND EVENTS: