Wish You Were Here: A Rock Fantasy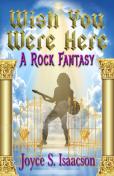 Wish You Were Here: A Rock Fantasy
A friendship that defies time and space.
This Rock Fantasy, the expanded edition, bridges the love between band-mates with the Pop-Paranormal, set to a killer soundtrack. After years of depression following the death of his soul brother, Tomas Alvers finds himself in Heaven.

Guided by the angel Gabriel, Tomas sets out on a Dantean adventure, hoping to reunite with his beloved lead singer. Along the way, Tomas encounters famous artists and performers laughing and learning from each other, in a grueling quest to rock the heavens!

He fights an uphill battle trying to understand the rules. While exploring questions about legacy, he wonders if he will ever find his mate.