Valkyrie Rising, A Nick Grant Adventure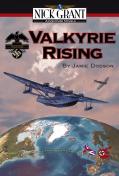 Valkyrie Rising, A Nick Grant Adventure
Nick Grant's summer as a US Naval Aviation Cadet is interrupted by the arrival of Commander Steve Boltz, Naval Intelligence. Boltz has an easy mission for Nick – join the crew of the Pan American Clipper survey flight to the UK. Once there assess security at the British Marine firm. They propose to build the Sikorsky S-42B under license. The S-42B is an American state-of-the-art flying boat that both the Japanese and the Germans want to copy.
US intelligence intercepts provide compelling evidence that Lieutenant Commander Toshio Miyazaki, Imperial Japanese Black Dragon, will lead a team to steal the technical specifications. Nick and Commander Boltz are the only Americans to survive an encounter with Miyazaki. Nick is to investigate and report – nothing more.
But Nick gets caught up in something vastly different – something that poses a threat to both America and Great Britain.