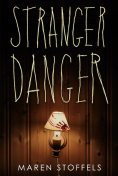 There's nowhere to hide when three teens find themselves in the middle of nowhere, with no internet and a killer hunting them down.
No phones. No internet. No social media at all. That's what it's going to take to finally get serious about school and focus on exams. Nova, Vin, and Lotus even rented a farmhouse in the middle of nowhere so they won't get distracted. After that, everything can go back to normal.

But they aren't alone. Someone is watching them from the forest. Someone who knows their secrets. Someone who wants revenge. And things will never be the same again.
STRANGER DANGER is a chilling, pulse-pounding "quick thrill" read that fans of Christopher Pike, Natasha Preston, and Stephen King will love. A fast-paced story featuring a commercial storyline, this book perfect for readers looking for a quick, thrilling beach read!
Check out Maren's previous thriller/horror titles including Escape Room (2020), Fright Night (2020), and Room Service (2021).