The Sleep Switch: How to help kids fall asleep fast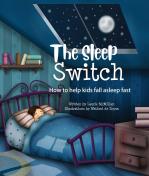 The Sleep Switch: How to help kids fall asleep fast
Does your child find it hard to fall asleep? If they do, then The Sleep Switch is for you!

"The Sleep Switch" is a delightful children's book that captivates young minds while teaching them valuable relaxation techniques. In this enchanting tale, different children discover their own sleep switch—their natural ability to calm their bodies and minds for a peaceful slumber. Through mindfulness, meditation, and gentle breathing practices, they embark on a whimsical journey that sooths every part of their being.

You will appreciate the soothing narrative that guides your little ones toward a restful night's sleep. With every page, a different child learns to embrace relaxation, taking deep breaths and experiencing the sensations within their bodies. The story lovingly bids goodnight to each part of the body, encouraging a sense of gratitude and relaxation from head to toe.

This book, "The Sleep Switch" combines this age-old wisdom into an easy-to-follow book for children that could help them:

Get a better night's sleep
Reduced stress or worry
Improve attention
Fall asleep faster
Establish a lifelong sleep routine
And more…

"The Sleep Switch" is not just a story; it's an essential tool for parents to teach their children how to unwind and find serenity before bedtime. With its charming illustrations and calming words, this book is perfect for children aged 3 and above, helping them drift off into dreamland with ease.

Learning how to relax themselves to sleep will empower your child for a lifetime.