Roger Tarkington and the Magic Calendar: Time's Up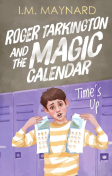 Roger Tarkington and the Magic Calendar: Time's Up
11-year-old Roger Tarkington sees his future, and it isn't good. After having achieved middle school greatness, he will soon lose it all and become the laughing stock of Jefferson Middle School.

But he has a powerful, magic calendar, so no big deal, right? Well, its magic power is about to run out, and a time travel glitch further threatens to derail his plan to stop his terrible downfall.

What will Roger do when he learns that his only hope in changing his future lies in confronting his own past? Find out in the final thrilling book in the Roger Tarkington and the Magic Calendar series!