Roger Tarkington and the Magic Calendar: Surviving Middle School (Book 2)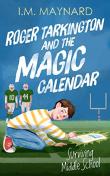 Roger Tarkington and the Magic Calendar: Surviving Middle School (Book 2)
Fresh off achieving middle school greatness, 11-year-old Roger Tarkington sets his sights on something bigger than himself. He plans to use his magic calendar to help the powerless at Jefferson Middle School and turn the tables on the school's powerful bullies.

Just call Roger a modern-day Robin Hood!

But Roger's very first attempt could be his last, as he uncovers a secret at the school so big that even his magic calendar may not be able to fix things!

Is Roger's plan to right the wrongs at Jefferson Middle School foolproof or foolhardy? Are some middle school wrongs impossible to be righted?

Leap into the second book in the popular Roger Tarkington and the Magic Calendar middle grade time travel series and find out.