Republic Under Siege: Threat from Within (#2 Wars of the New Humanity series)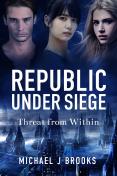 Republic Under Siege: Threat from Within (#2 Wars of the New Humanity series)
"I've been marginalized by an oppressive government system, by a system designed to keep people like me down. But I decided to fight back. You may not approve of my methods, but I don't give a damn."
—Akane Sugimori
After siding with the Coalition of Rebel Factions and taking part in the Battle of the Quad, Randal Scott became a hero to some and a treasonist to others. Returning to the Commonwealth Defense Force from a much-needed respite, he now finds himself a pariah among men and women once his brothers and sisters-in-arms. But a Guardian named Akane Sugimori seems to be the one ally he can foremost rely on to have his back, as he becomes entangled in a violent shadow war that may have a seismic impact on the New Humanity's future. Or can she be trusted?
Republic Under Siege: Threat from Within sees the return of Randal Scott and Stacie Spencer and welcomes newcomer Akane Sugimori to the Wars of the New Humanity series!
WARS OF THE NEW HUMANITY SERIES:
The Wars of the New Humanity series is a page-turning sci-fi thriller that explores socioeconomic hierarchies, class warfare, ascribed status, group identity, war politics, and more, in a world where humanity wages battle in mechanized combatwear called Shells, humans Link in mental communion, and life throughout the universe is vast.