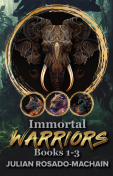 A city under siege. Immortal heroes. Unbeatable enemies. The jungle has never before been so dangerous.

Barganush the Ravager has forged the greatest army ever seen in the jungle, intent on destroying Ridyani, the Jewel of the East; so powerful is the Ravager that not even the immortal heroes IErdai and Radji believe he can be stopped. It will fall to young Ini to crack the code his father left behind and try to save the city from Barganush.

This compiled edition of Immortal Warriors includes all three novellas into a single tome for readers and fans of high action and adventure alike.
Book Details
Genre:
Adventure
Animals
Fantasy