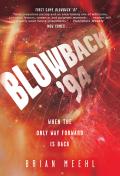 BLOWBACK '94
Iris Jongler-Jinks is about to make her greatest discovery yet: If you want to rescue someone who's lost in the past, DIY—do it yourself.
In BLOWBACK '07, Iris has discovered her family's ancient cor anglais—the Horn of Angels, which sends time voyagers to the past. She's certain her mother is there marooned in the past. In BLOWBACK '63, Iris has discovered that her twin brother, Arky, is the worst time traveler to ever century hop.
Now, in BLOWBACK '94, it is Iris's turn. She is hurled to a time of which dreams are made. A place where her quest to find her mom throws Iris into the company of Henri de Toulouse-Lautrec, Edgar Degas, and the most scandalous performer the Moulin Rouge has ever known.
But Iris's mission isn't all legends and the City of Light. Her time-travel trashing brother crashes the party. And the siren calls of the past that seem to have bewitched their mother work a spellbinding magic on Iris…and even Arky.
Who will make it home? Who will find home in the past?
Book Details
Genre:
Historical Fiction
Paranormal
Series