BIGFOOT AND NESSIE #1: THE ART OF GETTING NOTICED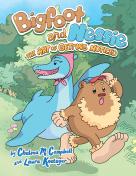 BIGFOOT AND NESSIE #1: THE ART OF GETTING NOTICED
In BIGFOOT AND NESSIE #1: THE ART OF GETTING NOTICED by dynamic debut comics author Chelsea M. Campbell and Bug Boys comics veteran Laura Knetzger, a self-conscious Bigfoot and quick-witted Scottish celebrity Nessie team up to help each other work through their anxieties, really accept themselves, and have quite a bit of fun in between. Fans of graphic novels, cryptids, mythical creatures, and Kevin Sherry's The Yeti Files will adore this pairing.

Meet Bigfoot and Nessie! Yes, that Bigfoot and Nessie. Only...Well, things are a little complicated right now.

Bigfoot is having trouble fitting in with his family. He can never quite manage to get himself into the picture, much to the disappointment of his mom, dad, and sister, who always want to be in the spotlight. When he meets Nessie, who's equally desperate to get away from the cameras, he begins to ask himself the ultimate question: What's the price of fame after all?

Big-hearted and clever, THE ART OF GETTING NOTICED invites us to explore our most tender selves through friendship and creativity. With quick pace and a snappy dialogue, this is perfect for reluctant readers, and graphic novel and summer reading round ups.
Book Details
Genre:
Manga/Graphic Novel
Picture book