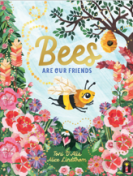 Bees Are Our Friends invites readers into a stunning garden to admire the hard work of one little bee. As the bee pollinates the garden, vibrant flowers and ripe fruit and vegetables burst to life around her. Down in the garden, up high in a tree, is a busy beehive ... and one little bee. Written in irresistible rhyme by Toni D'Alia, and lavishly illustrated by Alice Lindstrom, young readers will pore over this perfect introduction to these essential insects.
Perfect for
• Budding environmentalists and children who love exploring the world around them.
• Fans of Jason Chin and Kate Messner's popular picture books about nature
• Earth Day roundups
Toni D'Alia is a Melbourne-based author of children's books and contemporary fiction. With a background in primary education, Toni writes heartwarming stories to
inspire, educate, empower and entertain. Her children's stories have humor, heart and a gentle focus on wellbeing and the environment.
Illustrator Alice Lindstrom works in paper collage, using cut-and-paste techniques, painting and preparing the paper before cutting and assembling it to create textured and painterly collages. Alice's aesthetic draws on diverse influences, including mid-century illustration and design, folk art as well as Modern art movements.