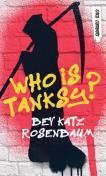 LitPick Review

Can you imagine switching schools all of the time and trying to figure out how to fit in? Fourteen-year-old Tanya Kofsky is certain no one listens to her at home or school. She feels she's not seen or heard. So she finds a way to get her thoughts out without anyone knowing she is behind the messages—graffiti! As she helps her friend who is campaigning for class president, she also works on voicing her opinion through her artwork. It gets people's attention, and the school administration conducts many student assemblies in an effort to find out who is doing the graffiti. As the school election date approaches, Tanya struggles to get her homework in, help her friend win, and keep relaying her messages.
Opinion:
Who is Tanksy? is an amazing book for middle-schoolers, as it's a reminder that kids can have their say in everything. It encourages readers to tell people what is on their minds. As a middle-schooler myself, I find main character Tanya to be very relatable, particularly when it comes to school demands and getting her messages out. I love the relationship she has with one of her friends—how they are there to help each other out. This book is a very fast read, and it has very important messages about friendship, homework, and being heard!
Explain your content rating:
The book refers to vandalism, but the culprit is appropriately reprimanded at the end of the story.
KEYWORDS
ACTIVITIES, HOBBIES, PLACES, AND EVENTS: