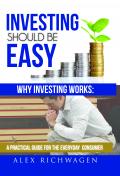 LitPick Review

WATCH THE LITPICK BOOK BRIEF VIDEO!

When you hear the word investing, what's the first thought that comes to mind? Are you confused because you're not sure of what it is? Interested, but not sure where to start? Or are you like most, completely uninterested? Either way, Alex Richwagen, author of Investing Should be Easy: Why Investing Works: A Practical Guide for the Everday Consumer, has something for everyone, no matter what stage you are at when it comes to investing. Richwagen's book is step-by-step and easy to follow, whether you are new or a well-versed investor. He includes his experience with investing, explains why you should care, and how, if implemented right, investing can be beneficial in every aspect of your life, not just financially.
Opinion:
This informational guide is great because Alex Richwagen is able to connect to the reader. If you have no idea what investing is, then you're learning about it. If you are familiar with the ins and outs of investing, then it doesn't hurt to refamiliarize yourself while utilizing the information you may not have considered. I also appreciated the author stating the purpose of this book. A lot of times, books involving investing can be stale, but Richwagen does an excellent job keeping the reader's interest because he includes examples, questions for the reader to think about, as well as providing a mini dictionary at the end for words you might not have understood as you read. There was one drawback, however. I found a few grammatical errors, but overall, this book is a simple, well-thought-out read. People who are interested in investing will appreciate what the author shares.
KEYWORDS
ACTIVITIES, HOBBIES, PLACES, AND EVENTS: