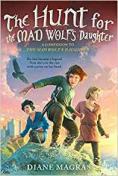 LitPick Review

The Hunt for Mad Wolf's Daughter by Diane Magras is an action-packed adventure novel. Drest, a young girl in medieval Scotland, learns that a high price has been placed on her head. Will she choose to spend the rest of her life hiding? Or will she face her enemies and earn a new role for herself? Will she follow the rules? Or will she risk her own solutions? Will her choices prove to be successful? This story is jam-packed with risk and resolutions.
Opinion:
The Hunt for Mad Wolf's Daughter by Diane Magras is a beautifully written novel. Diane uses a good variety of conversation and description to lead readers through an incredibly active plot. Her characters have strong personalities, which remain relevant and challenged throughout the novel. Drest, the leading female character, faces physical, mental and emotional challenges while she makes life-altering choices. She is a prime example of "girl power"! Her friends and family are forced to make difficult decisions as well.
This adventure novel has multiple layers. It could easily be read as a wild adventure as well as studied for an example of character development. I think that it would be an excellent book to assign to a middle school class. This novel includes educational lessons for an English teacher along with wild action and emotion for the students. There is something for everyone's taste. I highly recommend The Hunt for Mad Wolf's Daughter for ages ten and older. Can't wait to read what Diane writes next!
Sidenote: I appreciated the Author's Notes at the end of the novel. Great information!
Explain your content rating:
There is some fighting and suspense which might be too much for readers under ten.
KEYWORDS
ACTIVITIES, HOBBIES, PLACES, AND EVENTS: