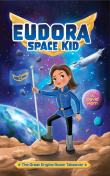 LitPick Review

Age at time of review - 9
Reviewer's Location -
East Brunswick,
NJ,
United States
View James's profile
In the book Eudora Space Kid: The Great Engine Room Takeover, a third-grade girl named Eudora Jenkins lives on a spaceship named Athena. Athena is a part of a group called Astrofleet, which is made up of many different spaceships. All her life, Eudora has dreamed of becoming an Astrofleet engineer. These engineers make sure everything is running correctly and make improvements to the spaceship. But, because she's too young, no one pays any attention to her. So Eudora makes a plan. She is going to do something no one has ever done before, something that nobody can ignore. Will she end up earning the glory, or will she get in big trouble?
Opinion:
This was a fun book overall. I liked that the author purposely misspelled words, like Lootenant, to make it funnier. Another reason I liked this book was because there are many fascinating things that I would like on Earth, like plasma cannons or a spaceship that can go faster than the speed of light. There were even different fantasy creatures as pets. However, it was a bit boring because there wasn't a proper problem. A lot of the story was just Eudora doing experiments. Yet, if you like science fiction books with humor, this book is for you!
Explain your content rating:
There was nothing offensive in the book.
KEYWORDS
CHARACTERISTICS AND EMOTIONS:
ACTIVITIES, HOBBIES, PLACES, AND EVENTS: