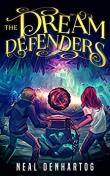 LitPick Review

In a world of crazy algebra teachers and annoying jocks, Nolan Erling could not have expected to stumble upon the endless dreamscapes connecting the sleepers of the earth. Aided by young agent Aeryn Sandman, the DREAM Institute tries to recruit Nolan for his remarkable ability to control his and other's dreams. But the dream world isn't the harmless place of imagination that Nolan initially believes it to be; there are very real dangers he discovers when he takes a leap to save his baby brother and is thrust into the infamous Deathstream from which few are rumored to return from alive. After unwittingly unleashing nightmares into the dreams of the general populace, Nolan embarks on a daring mission to rectify his mistakes. Accompanied by young agents from the institution, he ventures into a strange new world that will test the phenomenal skills everyone tells him he has been gifted with. But, as internal betrayals and dangerous threats come to fruition, those special skills begin to seem like less and less of a gift...
Opinion:
The Dream Defenders is a wonderfully imaginative story complete with daring action, lighthearted humor, and gentle sentiment. Detailed descriptions bring the world to life while a fast-paced plot keeps the reader engaged. The characters are easy to both understand and relate to from the very beginning, with young Nolan's family conflicts reflecting the struggles of so many his age. Meanwhile, Aeryn's feelings of inadequacy may resonate with readers feeling the need to live up to big expectations. The two fast friends navigate a world that is well-introduced and explained by the author; the nuances of the Dreamstream and dreamscapes are made vague enough to be intriguing yet clear enough to be the setting of an epic story of heroism. I especially liked the development of the villain characters in The Dream Defenders; the shadow's past and current interactions give the story dimension and variation, and the author demonstrated a skill for using different voices to narrate the tales of two opposite characters. This story was a fun read, easy to consume thanks to clean syntax and grammar, and hard to stop reading due to investing characters. The setting is creative and enchanting, and I would recommend this book for middle schoolers who also enjoyed tales like Chris Colfer's Land of Stories or Michael Buckley's Sisters Grimm.
Explain your content rating:
This book is perfectly appropriate for sixth graders and older.
KEYWORDS
CHARACTERISTICS AND EMOTIONS:
ACTIVITIES, HOBBIES, PLACES, AND EVENTS: