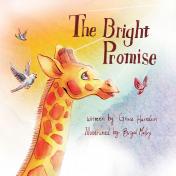 LitPick Review

The Bright Promise describes a group of diverse animals that looks hopefully to God's promise, which is shown through a rainbow after a heavy rainfall. The animals happily play together while the author describes each animal in slight detail through a rhyme scheme to attract young children. This is a fun story that teaches kids about animals, happiness, and hope. This is the perfect book for faith-based families.
Opinion:
The Bright Promise is a beautifully written book about expressing faith in the promise of God. The story is written in a rhyme scheme that flows smoothly. I was immediately drawn into the author's world. The illustrations are a perfectly sketched crayon effect that would look great framed in a young child's room but keeps a professional look. This author is a gem in the rocks. Her writing style resembles Nancy Tillman. This is a perfect book to teach little ones about finding hope in God. A lovely faith-based story.
Explain your content rating:
The story is about hope and keeping an eye on God's promise, which is a rainbow. There is nothing offensive in this book.
KEYWORDS
CHARACTERISTICS AND EMOTIONS:
ACTIVITIES, HOBBIES, PLACES, AND EVENTS: