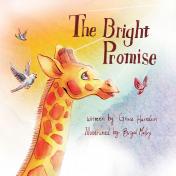 The Bright Promise
A surprise twist on a beloved Bible story from a young and unique perspective, this story reminds young and old readers that God always keeps His promises.

This clumsy, loveable giraffe and host of amusing, animal friends remind readers that while storms seem scary, we never have to fear because God promised a rainbow awaits after every storm.

This gentle story begins to teach little ones covenant truths found woven through God's Word. It's the perfect gift for new or expecting parents or grandparents.