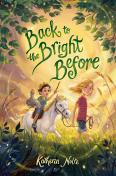 LitPick Review

Pet is a great older sister and an obedient daughter who loves her close-knit family, but the minute she gets a camera from her grandmother her family's life suddenly changes, and not for the better. When her father falls from a ladder and is seriously injured after Pet asks him to smile for a photo, he becomes hopeless and the family fears his injuries will prevent him from ever working at his trade again. Pet's father is a woodcarver and without the ability to carve his art that leaves Pet's mother to work double shifts at the local diner to try to feed the family. Pet is distressed and often goes to the local abbey to talk to the nuns, especially sister Melanie. She tells sister Melanie about the surgeries that her father needs and how important it would be to her family to see him get better, and she tells her how she is unsure how the money could be acquired to pay for the surgeries. Sister Melanie tells Pet about a lost valuable coin that supposedly was somewhere around the grounds of the abbey. Pet begins to form a plan to get the coin and save her father with the money from selling the coin at an auction. With the help of her toddler brother, Simon, a pony, and a tag-along chicken, Pet sets out to find the coin. The trouble is that there is also another less-deserving treasure hunter on the trail, and he will stop at nothing, even harming others, to get what he wants. Will Pet find the coin and save her family? This book is a delightfully descriptive and uplifting tale that is worth the time to read and find out.
Opinion:
I enjoyed how the author wrote the main characters as children who are on a heart-warming quest to save their parents and family. The story was magical and family-centered with several life lessons taught in an allegorical way through the symbols throughout the adventure. Some of these life-lessons were about finding hope through dark times, like Pet searching for hope by trying to acquire the lost coin, and also the lesson of acknowledging the faith of a child, like the sister nuns acknowledged the faith Pet and Simon had in each other to save their family. I felt like this story definitely suited the audience of the middle-grade reader in the 4th-7th grade range from ages 10-13 because of the main character's desire to solve her parents' problems by searching for the coin. The illustrations throughout the book were beautifully sketched and added to the whimsy of the book; the cover of the book invokes a feeling of triumph which foretells the hope of the young adventurers in a way that drew me to the book.
Explain your content rating:
Nothing offensive--a wholesome and beautiful story.
KEYWORDS
CHARACTERISTICS AND EMOTIONS:
ACTIVITIES, HOBBIES, PLACES, AND EVENTS: