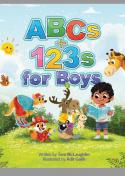 LitPick Review

ABCs and 123s for Boys by Tom McLaughlin and illustrated by Adit Galih is a playful alphabet and counting book for small children. It introduces 26 alphabet letters of the English language and mathematical numbers from 1 to 10 in a rhythmic two-line couplet. Kids will learn the ABCs and letter sounds. They will also find it interesting to count the animals in the book and look at the various illustrations with wonder and awe. This book is eye-appealing as it is very colourful and contains a variety of animals, birds, and cartoons. Children will love the depictions of animals doing human activities and also engage well with the pirates and dragons. Moreover, the sceneries range from lovely beaches to mountains and even underwater. This is a great book for moms and teachers if they are looking to engage children on a colourful journey.
Opinion:
McLaughlin has given shape to the perfect ABC book for babies, toddlers, and preschoolers aged 0-5. Galih has also done a wonderful job on the illustrations. It is difficult to write a children's book especially an educational one because children hardly pay attention to early teaching for a long time. However, to create such a picturesque collection is very helpful since the drawings will keep kids engaged for longer. The couplets are easier to remember than a regular textbook and Tom has also added a personalization note at the end of the book to write the name of the kid. Such intricate details keeping in mind the child psychology in education deserves appreciation. All I can say after reading this book is that any kid will surely request their parents or teachers to read it again and again for a long time.
Explain your content rating:
This book contains nothing that would be considered offensive. It is generally absent of violence, sex, drugs, swearing, and crude comments.
KEYWORDS
CHARACTERISTICS AND EMOTIONS:
ACTIVITIES, HOBBIES, PLACES, AND EVENTS: