Frequently Asked Questions About LitPick
Who are we?
LitPick Book Reviews sends new and recently released books to adults and students for review.
We are a worldwide network of adult and student (preteen and teen) book reviewers.
Parents, teachers, librarians, and other educators can involve their students as book reviewers too, either as individuals or in book clubs or groups.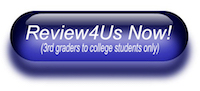 How can my school or library subscribe to your reviews?
Join our growing list of LitPick book review subscribers. Here's how!
You can also subscribe to our monthly newsletter which features current book reviews and more.
I would like to know if the program assigns books to adults and to students that are age-appropriate for them?
Adults choose their own books to review. On the other hand, students choose the books they want to review from a booklist online which is screened for them based upon their age. We do NOT assign our adult or student book reviewers books to review.
Although we do not believe in censoring literature, we have a filter on our site so that students under 17 years old cannot Request a Book to Review that has been designated "Mature Young Adult" or "Adult."
Each student book reviewer (not adult LitPick book reviewer) is required to have an adult sponsor (parent, teacher, librarian, homeschool educator, etc.). We ask that these adults help the student select an appropriate book for him or her to review from our booklist online that is available to them once they login after registering as a book reviewer. We have a long list of books that are available for review. For each book on the list, there is a suggested age range and genre, along with a description of the book.
We encourage the adult sponsors of each of our student book reviewers to help their students select age-appropriate books to review. "Age-appropriate" is a relative term since each student matures at a different rate. If an adult has trouble judging how appropriate a particular book may be for a student, we suggest that the adult search the Internet for more information on the book before allowing the student to choose it to review.
Is parental permission needed for students to participate as LitPick book reviewers?
LitPick does not require parental approval, although in order to sign up as a LitPick student book reviewer, each student MUST have an adult sponsor (parent, teacher, librarian, homeschool educator, etc.). When signing up a student group, adult sponsors of groups should consider getting permission from parents or legal guardians to share email addresses with LitPick. We have created a
consent form
to help you. (
Spanish version of our consent form
)
Is reviewer information kept confidential and not given or sold to others?
Absolutely! The information we collect from reviewers is kept confidential.
Some authors and publishers prefer to maintain control of their books, and instead of sending us copies, we need to request that they send review book copies directly to our book reviewers. In these cases, we need to supply the authors or publishers a reviewer's email or mailing address so they can be emailed an eBook or mailed a print book review copy. The authors and publishers know that they are not to use the reviewer's information for anything other than to send them a new review book. The information we collect from members is also kept confidential.
I have a group of fifth graders that I would like to sign up, but they do not have personal email addresses. Will this be possible?
If students have school email accounts, then the teacher can sign them up for LitPick using school email addresses and passwords that the teacher creates (and records).
If the students do not have school email accounts, here's an article that explains how to get multiple uses out of one gmail account. Basically, if a sponsor sets up a gmail account and then uses a +student name or number, he/she will be able to get all of the emails sent to that account.
From there, you can set up filters so each student could have a folder where their mail gets dropped into directly.
http://techverse.net/create-multiple-custom-email-address-one-gmail-account/
Do LitPick student reviewers get to keep the book they review?
Students receive a complimentary review copy of a book in exchange for an honest review. Yes, reviewers keep printed review books after their book review is posted on our site. Reviewers can also keep eBook review copies. However, the LitPick honor code for student reviewers includes a pledge not to share print or eBook copies with anyone else out of respect for the authors and publishers who have entrusted us with these new YA books.
How can students outside of the United States become LitPick book reviewers?
Individuals or groups of students from outside the United States can become LitPick student book reviewers of eBooks. There is no administrative or membership fee required. We have hundreds of eBooks on our online booklist that are available for review, and we welcome reviewers from all over the world to join us.
Can adults review books for LitPick Book Reviews?
Yes, adults are now welcome to review for LitPick, but we encourage them to review Mature Young Adult and Adult books. The strength of LitPick Book Reviews is that the majority of our reviews of new middle grade and young adult books are written by students, the group for whom these titles are written.
Can any author or publisher have their titles reviewed by LitPick Book Reviews?
Yes, we are always looking for middle grade and young adult books for our students to review. The majority of our reviewers fall into that age range, but we also invite authors and publishers to submit quality picture books and adult books for review. Submit your book today! We also can animate your LitPick review for placement on your website and social media pages!


How can we start a book club with LitPick?
A teacher, librarian, or parent can sponsor a LitPick student book club by signing up their students for a group membership. Groups of students can review the same title on LitPick as an eBook. We have hundreds of eBooks on our list that are available for review. Limited quanties of print review books make it difficult for us to furnish multiple copies to large groups, but educators and parents have used the LitPick program for their book clubs by allowing each student to choose a different print book from our list to read and review. Once a week or month at club meetings, a different student then presents their book and book review to the group for discussion. This way, other students in the club can decide if they would like to read the book too. The many different review copies can then be donated by the students to the library's book collection.

How can I help with LitPick?
You can join LitPick as an underwriter. A group of very skilled and dedicated adult LitPick underwriters generously volunteer to provide feedback to our student book reviewers about their reviews to help improve reading comprehension and writing skills. Please contact us if you are interested in finding out about becoming a LitPick underwriter and mentoring our student reviewers.

What can we find at LitPick Book Reviews online?
At LitPick Book Reviews, we have picture books, middle grade, young adult, and adult books to read. LitPick book reviewers review these children's, preteen, teen, and YA books, and we post their book reviews for teens. We also have adults who review books with more mature content. The books and reviews on our site can be used by librarians, teachers, homeschool educators, and parents to create a middle school book list, a high school or upper school book list, and a homeschool book list, as well as booklist of online reviews from all our student book reviews online.