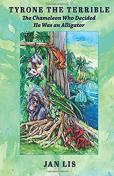 Tyrone the Terrible, is the award winning children's book, by author and illustrator Jan Lis.
(2019 Foundation Award, Blue Ridge Mountain Christian Writer's Conference)
TYRONE is the skinniest chameleon in the swamp. No one wants him on their team. After going on a fitness program, Tyrone gets carried away with his new self, and terrorizes his friends in Gnarly Tree Bend. Until he meets Sly, the meanest gator in the bayou. It looks like its gumbo for Tyrone.
The moral of this story being, there is always someone bigger and badder than you, so you'd best make friends along the way.
Tyrone the Terrible is a bullying tale. The feisty chameleon picks on his bayou buddies – then meets his match. In the process he learns actions have consequences, and the value of friends and family.
Jan's delightful story is filled with swampy animal characters, having a distinctly southern voice, not quite Brer Rabbit, but a good deep-south feel.
| | |
| --- | --- |
| | Support a small bookstore by purchasing this book here through bookshop.org - thank you! |