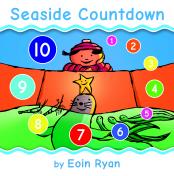 Seaside Countdown is a delightful counting book packed with charming illustrations of real sea creatures.

What does Ann find
Early in the day?
Ten Purple Sea Urchins
At the bottom of the bay

Ten purple sea urchins, nine black eels, eight green crabs.. Can you count them all?

Each page draws you further into a fun colourful world of wriggly eels, cheeky scallops and pretty sea horses. Your child will search, count and observe different types of sea creatures, learn about common colours and how to apply numbers to objects.

There are so many fun details to explore for clever little minds:
How many squid can you see?
What colour is the starfish?
How many legs does a crab have?

Included are fun fact files on each featured sea animal, shown in their natural habit in beautiful full colour photos.

For educators in the classroom, worksheets to accompany Seaside Countdown are available to download for free.