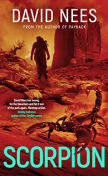 He is deadly and acts without remorse.

He inflicts pain and death in service to his master. Now he's killed someone close to Dan and those he loves. It's become more than a mission for Dan; it's personal now. The assassin may want to lure Dan into his trap to kill him, but Dan has other ideas.
One assassin must track another to his lair in a desperate attempt to eliminate him before anyone else dies.
Dan's quest takes him through Europe into the dark and remote parts of the Middle-East, far from any support from his handlers. In the harsh deserts and mountains, far from any help, Dan must confront his enemy. With no quarter asked or given, it's a kill or be killed struggle.
Book Details
Genre:
Adventure
Fiction
Mystery