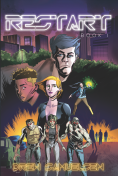 TOMORROW COMPUTER VIRUSES ONLY KILL PEOPLE!

When a computer virus decimates the earth's population, four teenagers and a dog survive, searching for answers while trying to escape packs of humans wired to hunt and kill. These four teenagers must band together to find solutions that will hold the key to saving the world. Yet the most dangerous enemy of all… is betrayal.

Harrisburg, Pennsylvania, never seems to make noise on the world scale. That is, until now. Ulysses (Uly) is a teenager with dreams. Most of which range from earning straight A's in school, making money, and marrying the girl of his dreams one day. None of these include saving the world, but Ulysses has learned to always keep his options open.

But one day, all his dreams and hopes crash and burn when a worldwide apocalypse is transmitted through electronics such as cell phones, laptops, and TV screens, bringing the entire planet grinding to a halt. Even worse, Ulysses is now being hunted by ruthless humans called The Changed, programmed to hunt and kill survivors, controlled by a female scientist only known as Eve. Separated from his family, Ulysses teams up with his friends Xavier, Maxine, and Tyler, along with a dog named Finn McCool, determined to stop Eve's plans and restore the world in… a Restart!