A Ray Red: A Novel (Soul Ray Series Book 1)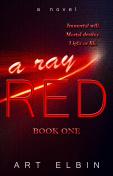 A Ray Red: A Novel (Soul Ray Series Book 1)
Just a red…
Others judge him by his color. His crush has strong ties to another.
He has much to learn and not much patience. And he's not born yet.
***
A soul ray bursts onto the light spectrum, rocketing through red and up the levels in his quest for more. As soon as he meets her, he knows she is for him. Will she ever choose a red? And if so, will he commit and merge into a life born on Earth?
***
Inspired by the skies of Jonathan Livingston Seagull and the dimensions of A Wrinkle in Time, A RAY RED is the first book of an inspirational, coming-of-age YA series introducing the fantastical origins and training of soul rays.
***
Immortal will.
Mortal destiny.
Light or life.
***
Level up with A RAY RED.
Level up to life.
Book Details
Genre:
Fantasy
Paranormal
Romance
Science Fiction