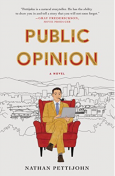 Herb is a fixer, a social media manipulator, an anonymous barracuda in a sea of wealthy marks. Blackmail, character assassination, fraud—it's all in a day's work.

When a quick scam introduces Herb to a cold-blooded director on a quest to film the Marquis de Sade's Justine, Herb enters a world of porn stars and celebrity sociopaths, massage parlors and murder.

Herb is building a family. He's trying to build a conscience. But most importantly—Herb will get his money, no matter how many lives he has to ruin along the way.