ODINSALL: The Stolen Children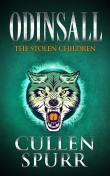 ODINSALL: The Stolen Children
A boy finds himself transported to a strange world and must fight to save his first love from a mysterious kidnapper -this debut novel puts a fresh spin on high school fantasy with Gods from Norse mythology and a lover he has to save.

"What do you mean the world has 'perished'? Who do you think you are kidnapping us and dressing up like Game of Thrones characters? Is this a new reality TV show or something?"

Val Jones was an average teenager until he became one of the last survivors of an apocalypse he didn't even know had happened. Rescued by the Norse Gods, Val is unwillingly enrolled into Odinsall: a school specially made for students transitioning into the realm of the Gods.

But will he be able to survive in a school where the students are going missing and the girl he loves is abducted?