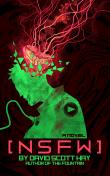 Set in the world of social media moderators, @Sa>ag3 and @Jun1p3r must survive their first 90 days to qualify for health benefits and a life-changing mystery bonus.

As they flag a nonstop torrent of the most heinous [NSFW] videos, their coping mechanisms expand to include OTJ sex, drugs, and a jellyfish.

But when copium is no longer an option, @Sa>ag3 & @Jun1p3r turn to a more bizarre form of therapy: intimacy.

Meanwhile a stream of ominous warning videos keeps popping up… COMING SOON… hinting at an event that will alter the American landscape.

@Sa>ag3 & @Jun1p3r are on the digital front line with their finger on the DELETE button.

Will love survive in this new age?

"As a futurist, Hay has vision. As a populist, a story. As a satirist, venom."
- Darren Callahan, from his Introduction to [NSFW].

"DSH writing is witty, smart, and precise."
- Chicago Sun-Times

"DSH has a taut, bristling writing style stacked with compelling ideas."
- New City Journal

An experimental mind-bending horror-lit satire set in the near future about connection, isolation, and the horror of modern living. The Office meets A Clockwork Orange.
Book Details
Genre:
Fiction
Horror
Literary Collection
Romance
Science Fiction