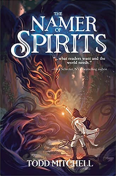 The Namer of Spirits
"A dangerous town carved out of unforgiving forest, a young girl who can name spirits and tame monsters, a race against time to save the natural world: The Namer of Spirits is what readers want and the world needs." –Eliot Schrefer, New York Times bestselling author

In the frontier village of Last Hope, people dismiss twelve-year-old Ash Narro as a flighty child who claims to hear the true names of things.

But when enraged forest spirits attack, Ash shows that the names she hears have power. After taming a destructive forest spirit, Ash teams up with Fen, a wild forest boy, and embarks on an unusual journey to save her village.

In this steampunk eco-fantasy, the perils of deforestation and the power of friendship are explored through a fantastical adventure involving giant mistcats, tempestuous forest spirits, a supernatural puppy, and a girl with a special gift for shaping what things become.