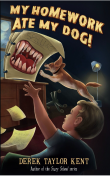 My Homework Ate My Dog!
Rudy Berkman thought he was the luckiest kid in the world when his family moved to Danville, recently named "The Best City in the World." There is no crime and the schools are considered the best in the nation. The only problem is, all the kids at Danville Junior High act like mindless robots and his teachers seem to want him dead! When an enchanted homework comes to life and 'eats' his dog alive, Rudy embarks on a dangerous quest with his kooky grandpa and the school bully to rescue his beloved best friend from a greater evil than he could ever imagine.
This action-packed adventure is ideal for reluctant readers, superhero fans, and anyone who is looking for the next magical story after finishing Harry Potter.