Max in the House of Spies (Operation Kinderspion)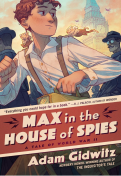 Max in the House of Spies (Operation Kinderspion)
MAX IN THE HOUSE OF SPIES, on-sale: 2/27/2024 is Adam's highly anticipated return to the world of middle-grade historical fiction. It's a World War II story as only Adam Gidwitz can tell it; fast-paced, clever, and filled with heart, this is a riveting historical tale about a Kindertransport refugee named Max who travels from Nazi-occupied Germany to London. Max is desperate to return home to Germany to reunite with his parents, he just didn't think he'd do it as a British spy – or with two immortal creatures that only he can see and hear on each shoulder.
NYT bestselling author R. J. Palacio said, "Max in the House of Spies is everything you could hope for in a book: a magical, historical spy thriller-that's also spectacularly funny. I couldn't put it down!"
#1 NYT bestselling author Alan Gratz says, "Espionage! Secrets! Suspense! If you've ever dreamed of being a spy, this book is for you."
Here are more talking points:
INSPIRATION: Adam was inspired by a close childhood family friend who was part of the Kindertransport. Adam's love for Michael Steinberg has spanned his lifetime, and this is an homage to him.
HOW THE TRUTH GETS DISTORTED IN NATIONAL DISCOURSE: During the Covid pandemic, Adam was struck by how the "truth" could be bent, and as a Jewish man, the Holocaust always loomed large in his life. It made him think about what was being told / broadcast during WW II.
THOROUGHLY RESEARCHED: Adam has spent countless hours researching the events that take place in the novel. While this is historical fiction, almost every character in this book (other than the protagonist and the two immortal creatures living on Max's shoulders) are based on real historical figures.
LITTLE KNOWN HISTORY: The Kindertransport is a period in time that not many know about. Adam gives a unique perspective on these events, and with the One Life moviecoming out in January, where Anthony Hopkins portrays Nicholas Winton's organized Czech Kindertransport, the topic will be in the news in the New Year.
JEWISH & GERMAN FOLKLORE: Max is joined by two unexpected, immortal, and invisible traveling companions with roots in Jewish and German storytelling traditions—a dybbuk named Stein and a kobold named Berg.