Kenny and the Book of Beasts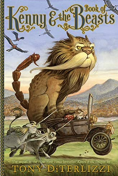 Kenny and the Book of Beasts
What can come between two best friends?

Time has passed since Kenny Rabbit's last adventure with his best friend, the legendary dragon Grahame, and a lot has changed in the sleepy village of Roundbrook.

For starters, Kenny has a whole litter of baby sisters. His friends are at different schools and Sir George is off adventuring.

At least Kenny still has his very best friend, Grahame. That's before Dante arrives. Dante is a legendary manticore and an old friend of Grahame's. Old friends spend a lot of time catching up. And that catching up does not involve Kenny.

But there's a Witch to defeat, a pal to rescue, and a mysterious book to unlock. And those are quests for best friends, not old friends. Right?
Book Details
Genre:
Animals
Fiction
Humor
Special