The Jellies and The Crunchers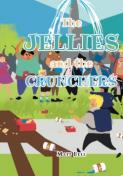 The Jellies and The Crunchers
The Jellies and The Crunchers deals with a community that is sharply divided on how to act, dress, think, and what to eat. There is a great conflict in the community and an even greater resolution led by a brave little girl who brings the community together.
Book Details
Genre:
For Reluctant Readers
Humor
Inspirational
Special
BEANTOWN ARCHIE of Instagram fame says, "Please support LitPick by shopping here. Thank you!"