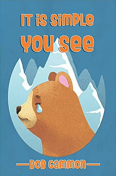 In a land where all the polar bears are white, a young polar bear who happens to be orange is shunned by all the others. He finally finds a friend in a small white polar bear who gets ignored because of his short stature.
The two outcasts accept each other's differences in spite of the pressure around them. When dangerous weather threatens, they get through it together and all the bears learn a lesson about friendship and caring.
This simple, clear allegory, It IS Simple You See, offers a touching and vital message to children of all ages. Delightfully illustrated by W. Jones, these two young polar bears teach everyone that differences don't matter.