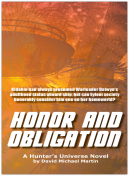 This is the second book in the Hunter's Moon Universe. After March saved Kidahin's shipmates from sure death, he was asked to be their Warleader. All well and good until they reach Kidahin's homeward where Marsch must prove himself to be worthy. And he must do it on a world he has no experience with.

An unknown jungle on a foreign planet can be a dangerous place with menacing creatures all around; creatures that could spell doom for an unsuspecting solider. It can be even more treacherous without weapons. Add total nakedness and the possibility of survival almost vanishes. Yet if Delwyn Marsch is forced to go through the Adulthood Ceremony of his newly adopted world, this is what he faces.

Surely Kidahin's clan will accept Delwyn's adulthood status but what if they don't? How can she protect her Warleader, Delwyn, from all the pitfalls he may face during this ceremony without violating this ritual? She needs a plan and fast.