The Fifth Hero #1: The Race to Erase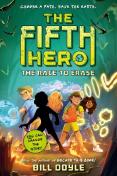 The Fifth Hero #1: The Race to Erase
The Calamity Corporation is determined to end life on Earth as we know it. The company has built hotels that orbit Earth and small cities on the moon and has plans to move the human population to Mars. The sinister corporation is determined to ruin Earth so that people have no choice but to leave it.

Not so fast! Four kids who secretly possess the powers of land, air, sea, and creatures are about to change the course of history. These kids may not be the likeliest of heroes, but they are determined to stop Calamity Corporation from destroying Earth. And they have a secret weapon: a fifth hero. YOU!
With characters from different backgrounds who have different feelings about climate change, this book offers all readers someone to identify with. And with climate change being one of the biggest threats this young generation will face, this book will inspire young readers to learn more and take action! Informational back matter is also included to teach kids about the science behind the decisions they make during the course of the story.