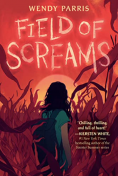 Everybody loves ghost stories…until they end up in the heart of one. In Wendy Paris' debut novel FIELD OF SCREAMS (Delacorte Press | On sale August 1, 2023 | Ages 8-12), twelve-year-old paranormal enthusiast Rebecca Graff isn't happy about being dragged to Iowa to spend the summer with family she barely knows. But when she tracks a ghostly presence to an abandoned farmhouse, she starts to think the summer won't be a total lost cause. The problem: no one believes her.
But everything changes when Rebecca finds a note stashed in a comic belonging to her late father – a note that proves the same spirit haunted him when he was twelve. Suddenly, she feels a connection to the dad she pretends not to miss, and she is more determined than ever to uncover the story behind the haunting.

The more Rebecca discovers, the scarier the ghost becomes. Soon, she is in a race to piece together the puzzle and recover a family legacy before it is lost forever and a horrible tragedy repeats itself.