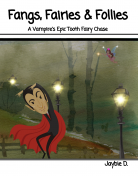 Join Silas, a lovable vampire with a toothy dilemma. He sets off to find the elusive Tooth Fairy in hopes she can fix his flat teeth. Silas trecks through forests, across lakes, and over mountains, having all sorts of hilarious escapades along the way.

Filled with playful rhymes and charming illustrations, "Fangs, Fairies & Follies" takes young readers on a delightful adventure, teaching them about perseverance and the importance of a healthy smile.

Get ready to join Silas, the vampire with toothy trouble, on an enchanting journey that will leave children grinning from ear to ear!