Eudora Space Kid: Do the Robot!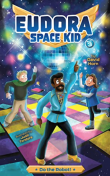 Eudora Space Kid: Do the Robot!
What if you are friends with the coolest robot in AstroFleet… but you've broken him? Book 3 in the Eudora Space Kid series, Do the Robot! is a hilariously funny, early reader sci-fi chapter book perfect for elementary-aged kids.

Eudora is a normal third grader who just happens to live on a 36 deck AstroLiner. In SPACE! As a math and science whiz who's been adopted by what you might call . . . aliens, she has normal ambitions—like being the chief engineer on an AstroLiner. But when Eudora breaks Lootenant Commander Walter, the priceless AstroFleet robot officer, she needs a plan. Do Eudora and her best friend Arnold have the skills to trick the entire ship into thinking Walter is fine? Or will they end up in the ship's brig? Again . . .

Brilliant for engaging emergent and early chapter book readers.